Level 3 Surveys
(formerly known as Structural Surveys or Building Surveys)
This is suitable for all types of residential property and is based on a detailed inspection of the building in as much depth as possible, and provides a full picture of the construction and condition.
The report will include guidance on maintenance and remedial works and detailed comments on any noted defects. Typically Level 3 Surveys do not include a market valuation or reinstatement cost assessment (formerly a fire insurance valuation).
We are happy to comment within our reports on specific points of concern raised by our clients and the feasibility of extending or altering the property.
At Sheffords we use a digital camera elevated on a pole to inspect hidden gutters, inaccessible flat roofs and chimney stacks in more detail than can be seen from the ground. We use colour digital photographs in our reports to highlight and explain defects. Surveyors who do not use a similar system would not have been able to inspect the lower parts of the chimney in the photograph below.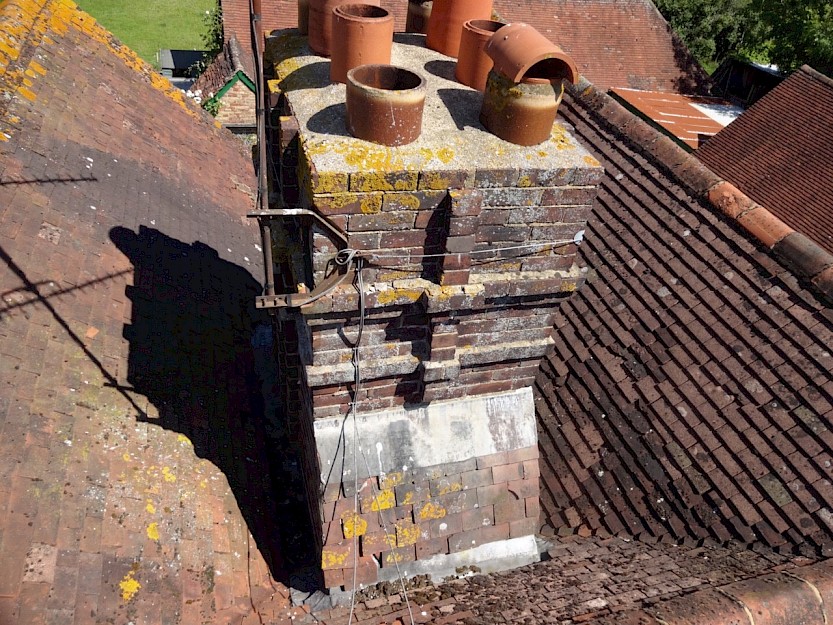 Where necessary we may make recommendations for further testing in the report. We can provide contact details of local proven contractors to test drains, electrical wiring, plumbing and heating systems etc. or we can specify and supervise the work (additional charges will apply).
Link to Level 3 Report (blank).
From £1,000 + VAT. We base our fees on size, construction and condition and therefore how long we anticipate the inspection and report writing to take. Please complete the contact form and supply a link to any agent's details of the property to obtain a fixed price, no obligation quotation.